Industrial Production Crating
SERVICES TO SUPPORT YOUR MASS PRODUCTION NEEDS
Production Crating for Industrial Applications
Craters & Freighters located in Tulsa, OK, is your comprehensive provider of industrial production crating. We serve manufacturing facilities, including oil and gas, aerospace, and other mass production needs. Our packaging professionals support a number of industries locally and globally, allowing us the skill, knowledge, and ability to work with large-scale production needs.
We are known for never shying away from a challenge, handling the most oversized, awkward, and sensitive shipping needs. We take this knowledge and apply it to all industrial mass production applications. In fact, our industrial production crating and packaging services are uniquely designed to support the following industries and beyond:
•  Oil and gas                                                          •  Industrial Automation
•  Aerospace                                                           •  Electrical Equipment
•  Transportation/ Automotive                                 •  Telecom
•  Construction/ Infrastructure
Industrial packaging, mass production crates, custom pallets, and skids – we provide everything you need to store and ship safely and efficiently. We meet any MIL-spec requirements, read drawings, and build custom solutions to meet your specific demands.
Our vast industry knowledge is leveraged for your success, providing comprehensive solutions backed by a global network and decades of experience and satisfied clients. Your mind can be at ease knowing we understand your industry needs, your specific company demands, and have the resources to make your project run smoothly and efficiently.
Contact us today to discuss your industrial packaging and production crating needs.
Production Crating Services
Craters & Freighters production crating specialists have helped thousands of organizations in dozens of industries with their mass production crating needs. We've perfected the art of crating and shipping and are known globally for our service, skill, and quality.
Craters & Freighters in Tulsa understands the importance of protecting your valuable assets and we know how important it is to meet deadlines to ensure production and distribution goals are optimized.
If your organization needs 50 crates or 500 crates, our mass production solutions have you covered.
We take the time to understand your exact needs, from timeline to destination, mode of transportation and size, fragility, and sensitivity. We create solutions to custom fit your needs such as:
•  Mass production custom crates                 •  MIL-Spec Crates
•  Custom skids and pallets                           •  Export Crates
On-Site Crating
When items are too large, bulky, complicated or fragile to bring to our Tulsa location for crating, we come to you. Our on-site crating services use the same skill, equipment, engineering, and quality products as we do in our own warehouse.
Industrial machinery, aerospace equipment, hazardous materials, oil and gas, can all be difficult to transport. On-site crating overcomes many challenges because we prepare the items in place, including industrial packaging, bracing and support, for shipping or storage.
Integrity is never sacrificed for on-site crating, and we never use one-size-fits-all solutions. You can be certain the shipping and crating solution we design is specifically engineered for your assets and needs.
Save your precious time and materials with Craters & Freighters on-site industrial crating service
Custom Packaging
Protecting your industrial equipment is more than the crate or container. The packaging to keep it secure must also match perfectly. This is the goal and purpose of custom packaging. Whether local, national, or overseas, we can keep your asset protected with proper stabilizers, wraps and cushioning to ensure safe transport.
Using spec-driven technology, engineering knowledge, and industry expertise, we create industrial packaging solutions for:
Mass-produced items
Multiple SKU packaging
Short-run production lines
Build to suit equipment
Surviving the shipping stream requires proactive measures involving the proper container and cushioning. We are up for the challenge, successfully navigating shipping challenges for decades. We will help you get your items safely to their destination.
Custom Crating
Our shipping and crating professionals work with oversized, heavy, fragile and sensitive items each and every day. Structural support for your industrial assets is one of our specialties. We custom engineer every piece to make sure your items are protected for storage and shipment, including pallets and skids.
We determine the precise container and packaging for your equipment, ensuring attention to detail, spec-driven technology, and your goals to create ideal solutions for:
Shock sensitive parts
Oversized and bulky robotics
Industrial equipment
Aerospace equipment
Military spec crates
Construction materials
Conveyors and machinery
Storage tanks
Static and weather protection
And more
Trusted globally for decades, Craters & Freighters in Tulsa is committed to every crating, packaging and shipping project. Contact us today to learn more.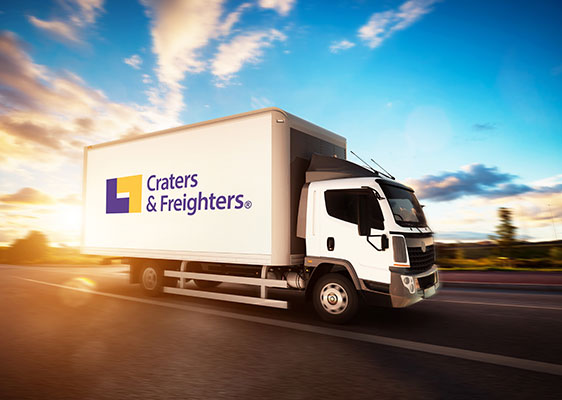 Streamlined Shipping Solutions
Our comprehensive shipping solutions mean you don't need to look any further for your crating and shipping needs. Domestic or abroad, large or small, oversized or fragile, we have what it takes to help you meet your storage and shipping goals.
Our Tulsa shipping company offers all the services to take shipping worries off your plate and into our competent hands. Our logistic professionals welcome your shipping challenges and offer a tremendous amount of resources, knowledge and skill to meet your industrial production crating demands.
Let's work together to get your valuable items to their final destination quickly and safely.
Get a fast, free, no-obligation cost estimate from Craters & Freighters Tulsa.
This location proudly serves NE Oklahoma including but not limited to Tulsa, Broken Arrow, Owasso, Sand Springs, Sapulpa, Skiatook and Bartlesville. Provide some information on your needs and we'll get back to you right away with a figure you can use in your planning.