CUSTOMIZED SOLUTIONS
Custom Packaging and Crating for the Aerospace Industry
Tulsa Craters & Freighters is your source for packaging and crating for the commercial aerospace industry. Our services are backed by decades of experience, both locally and internationally to bring you the safety, quality, and customer service you require for your most sensitive and valuable aerospace assets.
Our engineers design shipping plans, including customized crates, packing, stabilizers, pallets, skids, wrapping, and more. Oversized, awkward, and sensitive machinery and equipment are staples in the aerospace industry and transporting these types of materials are our specialty.
Going above and beyond industry standards to bring you unique solutions with spec-driven software, on or off-site design, and high-quality materials, we ensure your assets are well protected for storage or shipping.
Let our shipping specialists help with all your aerospace logistical needs. With Craters & Freighters in Tulsa, you don't need to look any further for aerospace crating.
Services Designed Around Your Needs
Craters & Freighters Tulsa never uses a one-size-fits-all approach because when it comes to shipping challenging assets, only a custom packaging and/or crating solution will do. As a leader in the shipping and crating industry, we've designed custom solutions for a variety of industries, including government, military, art/auction, automotive and more.
This experience with highly sensitive, fragile, bulky and overweight items has equipped us to serve the aerospace industry well. When working with clients, we start by gathering information to understand the shipping needs and goals, such as:
Destination (local, national, international)

Size/ Weight/ Shape

Mode of Transportation (for stabilization needs)

Fragility / Sensitivity (anti-static, weatherproof, etc.)

Timeline
Our global network allows us to create solutions others can't match, and that's exactly why our customers return to us for all their aerospace crating, and packaging needs.
Present us with your assets that are heavy, awkward, fragile, or otherwise need special accommodations and we will rise to meet the challenge. Our goal is your satisfaction!
Crating and Packaging Design
The highly skilled shipping professionals at Tulsa Craters & Freighters are here to create one-of-a-kind solutions for all your aerospace crating needs. Our customer service, engineering knowledge, and industry expertise backs every custom packaging and crating design.
Our focus on creating optimal scenarios for our customers has earned us global recognition. High-quality materials, tried and tested expertise, and innovative customization is why we are leaders in the shipping industry.
Count on us to get your aerospace equipment safely and securely to their intended destination, on time, safely and professionally – we are dedicated to your project from start to finish.


With our team you will receive:
A professionally designed shipping plan
Crating and container creation for aerospace parts and equipment
Packaging, securing, stabilization, and wrapping
Secure handling, packaging, and crating of your prized assets
Industry understanding of both shipping and aerospace to ensure your valuables are protected and secure
Custom options for your specific needs
Our specialists create peace of mind through attention to detail and by providing the dedication required for the safe transportation and storage of your valuables.
Packaging Solutions
The custom packaging and cushioning solutions provided by our experts are designed to meet a wide variety of specifications and needs. Globally trusted and tested for quality, we take on the most challenging projects to delight our customers and earn their repeat business.
Some of our custom crating and packing solutions include: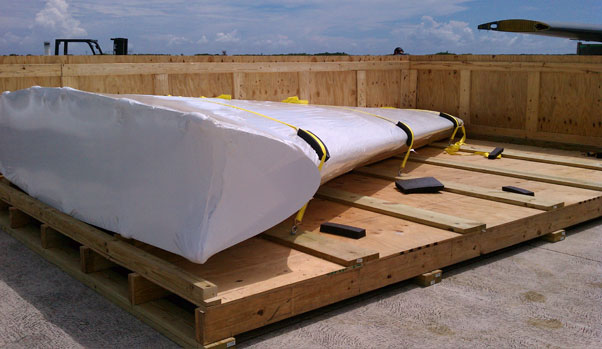 When assets are too difficult to transport to our Tulsa location, we come to you instead. We bring our experts, software, materials and rigging (if needed) to build custom crating and packaging right on-site.
Containers built on-site have the same quality, expertise, integrity, and level of accuracy as they would if they were built in our warehouse. Our goal is to make it easier for you!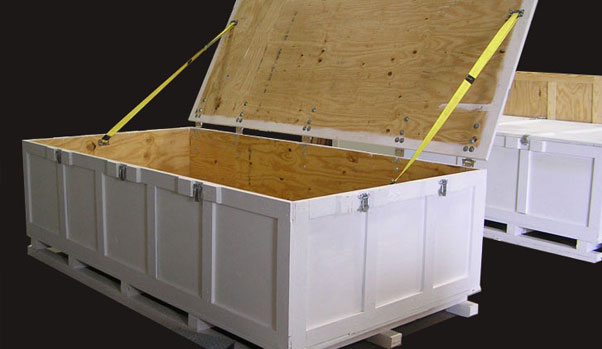 Like export crates, MIL-Spec crates must meet specific guidelines to easily pass through the shipping process. Every military branch is served by our crating experts, and these are highly valued relationships to us.
Federal, State, or Local agency, we are proud to work with our military clients.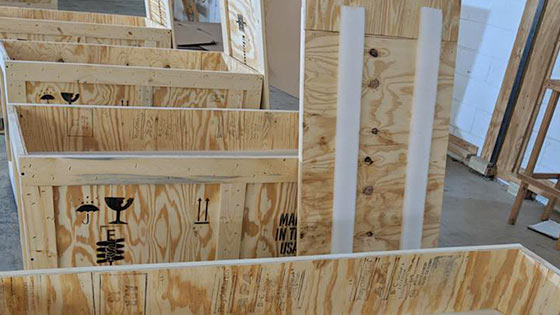 Shipping overseas? We provide ISPM 15 Export crates designed to meet all requirements for international transport. Our export crates will streamline the customs process by meeting all the prerequisites, while also protecting your assets with unique cushioning, supports and bracing needed for an often-turbulent shipping environment.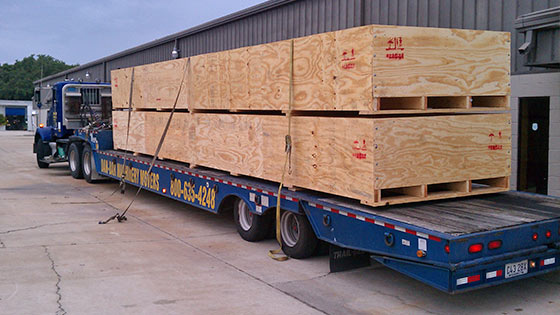 Needing a tailored container or custom crate delivered? Built-in our facility and delivered to your doorstep, we aim to make the entire crating and packaging process as painless and seamless as possible.
Get a fast, free, no-obligation cost estimate from Craters & Freighters Tulsa.
Provide some information on your needs and we'll get back to you right away with a figure you can use in your planning. 
This location proudly serves NE Oklahoma including but not limited to Tulsa, Broken Arrow, Owasso, Sand Springs, Sapulpa, Skiatook and Bartlesville.